Everyone! It has been a long eventful summer with me appearing on the blog every now and again but neglecting it most of the time. I apologize to everyone for not being able to keep up the commitment but I assure you that I have taken note of all the things noteworthy and I have a really lot to share with you. I am back with a bang and this is the first thing that I want to share with you! My Weekly manicure is back :)
This week's manicure features a lot of sparkles was inspired by the Maltese summer which is marked by a lot of village feasts around the island, and more often than not there is more than one locality celebrating their patron saint on the same weekend. When I created this look, sometime between July and August, it was Zurrieq's turn (a village close to the one I live in) with Santa Katerina (Saint Catherine) and the feast's club colour is blue. Match that up with summer's clear blue skies and blue sea waters glimmering in the sun and the following manicure came up! I hope you enjoy reading about it as much as I enjoyed creating and flaunting it! As a side note, I forgot the exact date because in Qrendi where I live, we are surrounded by the three most fearsome fireworks manufacturers, us, Mqabba and Zurrieq, and with two feasts each, summer is a continuous rumble of fireworks, enough for me to loose count about who is firing for which saint!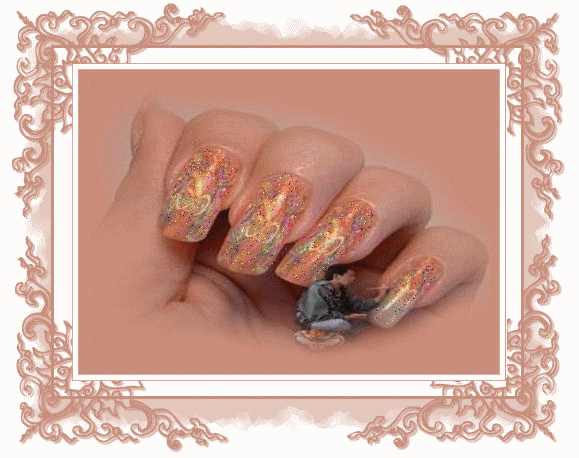 On with this week's feature manicure.
The Products used are:
BornPrettyStore Holographic Polish in
Born PrettyStore Rhinestones in 1.3mm silver and dark blue
TopCoat by Debby ForPlay1
Glue and Rhinestone Picker Pen from BornPrettyStore (these were part of a kit where you got the pencil, glue and a little palette)


Step 1 - Clean the nails, with some clear water or better still a swipe of polish remover and then a good rinse.
Step 2 - Polish your nails with three coats of holographic polish, you can use any color in the range offerred by
BornPrettyStore
but in my case I am using a brilliant blue.
Step 3 - Prepare to start fixing the rhinestones. Firstly if your picking pen is brand new, sharpen it leaving a flat top. Next choose your rhinestones and put them in the palette. I am using silver and dark blue. Open the glue and fix the nozzle that comes with the set.
Step 4 - With the design in your head it's time to start fixing them into place. I am doing a half flower so first I am applying a little glue directly on the nail. This has to be done one nail at a time because the glue dries up quick. Next I am picking a blue rhinestone an placing it in the centre close to the cuticle. Next I am picking up a silver rhinestone and placing it on the left hand side of the blue one and the another one on the right hand side. This will form a straight line. Next up I am placing two more rhinestones on top of the blue one in between the other two silvers to creat a half moon. The blue one is the centre of the flower and the silver ones are the petals.
Repeat step 4 for all the other nails and remember to take your time and apply glue only on one nail at a time.
Step 5 - Apply a cover of top coat on everything to help seal everything in place. This isn't necessary to hold the rhinestones in place if you put the right amount of glue but it helps to preserve the polish.
For the products used you can visit
BornPrettyStore
and browse their vast range of rhinestones or else go directly to the products I used by following the links below.
Rhinestone application kit containing palette, glue and picker pen


These are the rhinestones that I bought, they are available in various colours and if you wish there are other sizes as well.
As far as the tutorial goes, that's about it. Now I wish to share with you a little review of these products.
As for the holographic polish you can view one of my previous post where I feature this polish along with it's silver counter part
here
.
As for the rhinestones, they are really brilliant. I bought a set of 12 colours without choosing the colours I wanted and the staff sent me a nice variety, all their main colours were in the set. They are small and allow for nice designs to be created like the one in this tutorial. They are fairly easy to use as well, the trick is mainly in the glue and the picker. The most important thing about rhinestones is their appearance rather than anything else and these are made in such a way to reflect light very efficiently and give it off just like small diamonds. They can be passed for swarovski easily.
Last but not least, the kit for applying rhinestones is super essential. The Palette is shallow but deep enough not to allow the rhinestones to bounce out of it when you pour them in. The pen or rather pencil, is easy to sharpen and doesn't break easily. Infact mine did not break yet. If you sharpen it in a way that there is a flat point, it is easier to pick the rhinestones, and they do stick to it! The glue is also very good. It dries up clear and dries quickly but not too quick to prevent minor corrections or precise positioning of the stones. You do have to have an idea of what you want before hand though and it is because of it's drying power that I suggest applying glue to one nail at a time. My rhinestones stood in place for two weeks, and the polish only had minor chips at the tips, small enough to correct with an extra coat of polish which is quite a feat when compared to other brands.
Overall, I recommend these products big time because I really had a good experience using them. I am always running out of time and on a tight schedule so anything that allows for quick application, good results and long lasting is essential to me. So if they are good enough for a fast-track person like me, then they are good for everyone, even for those who have all the time in the world in their hands. They are also good for people who have nail art as their profession as it quickens their work a lot and will earn them quite some compliments as well :)
I guess that's a wrap for today, I will see you again next time!
Thanks a lot for reading,
Saranghae,
Pauline