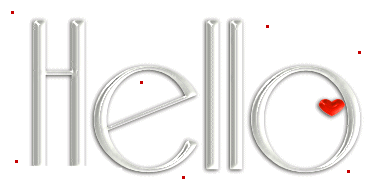 Today I am going to show you two manicures pertaining to the Sailor Moon Series. Actually one of the manicures lays the groundwork for the second one which is slightly more flashy. This week I was inspired by The Saint Mary Fireworks at Mqabba and then I later noticed that I could combine the same manicure to Sailor Mars (fire is an essential element in both cases) and Rei.
A little about Saint Mary Fireworks Factory Mqabba
Basically this is the best fireworks factory that we have in Malta. This year the only other factory that impressed me as much, or maybe a little less, was the Lourdes Fireworks Factory of Qrendi. Mqabba and Qrendi are neighbors with only a small stretch of street dividing them and are eternal rivals when it comes to fireworks. Anyways, the SM Factory (nothing to do with SMTown) has won several titles both nationally and internationally, and they annually present a show at the Mqabba Bypass on the eve of the 15th August which is a public holiday dedicated to the Assumption of Saint Mary and the arrival of a Convoy during the last war which saved the country. People refer to the feast as the Convoy of Saint Mary because it is a general belief that Saint Mary interceeded (miracle) to aid the convoy to make it to our harbour on the day that the Maltese dedicate to her. My general history may be a little lacking. Anyway I will post a video cortousy of HipHopFroggyProduction who uploaded it on youtube, for you to enjoy!


Moving on... I decided to combine this manicure to Rei Hino from Sailor Moon because the base colour is deep blood red, and red is actually the girl's colour, plus it is also reminiscent of fire. The second phase of the manicure is dedicated to Sailor Mars because it is a little more elaborate and features an item from her fuku as you shall see.



Products used:
Lioele Nail Hardener as Base and Top Coat
Yesny Nail polish in red (bought locally)
Direct links to nearly all the products I use in my manicures are found on my Favorite Nail Products Page!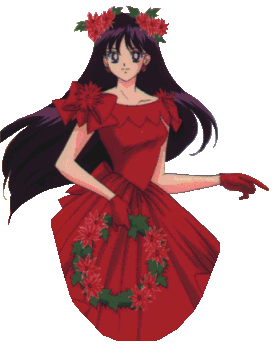 Phase 1:
This lays down the ground work for the completed manicure and basically consists of applying the base coat and then 1 coat of red polish. I applied only one rather thick coat and since the polish I used is not exactly one of the top listers in good quality I had to do my nails twice to get it right! When you buy cheap stuff, you only get cheap results :(
Phase 2: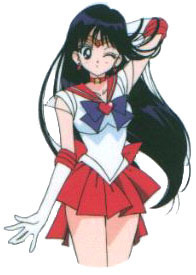 This stage consists of applying the nail water decals. I chose a design from my silver stars in mirror image and applied one on each ring finger. It is rather easy to apply these decals, all you have to do is cut out the design you want from your sheet with small sharp scissors, remove the protective plastic and soak them in water for like a minute, then gently slide it off the back card (thick paper) and place it on your nail. Don't forget to dip your nail in water before placing the decal. Remove any creases, tap the excess water with a piece of kitchen towel and apply top coat. I always apply two coats to be on the safe side :)
Nail Polish isn't perfect! It required 2 full days to dry completely and it started melting away at the tips!
If you like these decals, visit BornPrettyStore and check them out. They have a very huge selection of decals or stickers and they are well priced as well :) Plus since you are my esteemed followers I am glad to bring to you a special code which you can use on all products found at this amazing store at 10% cheaper!
I hope you guys love this manicure and let me know what you think in the comments below! If you want a tutorial of the matching makeup look just let me know :)
Till next post,
saranghae :)
Pauline